We are excited to introduce two new programs for 2013!
Inner Palette™
Join us on Tuesdays from 10 AM to noon for Inner Palette, an expressive experience. Escape to the pleasure of your imagination after a short, relaxing meditation. All art materials will be provided and no art ability or experience is necessary.
Drumming Circle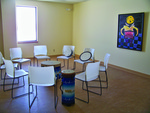 Join us the 4th Thursday of every month from 7 to 8 PM, for Drumming Circle. Come and experience the freedom and joy of play, with no pressure. Express yourself! Instruments will be provided. No musical experience necessary.
Both programs are open to the community. To sign up for these programs, please call (260) 484-9560 or 866-484-9560.